You're sitting on the beach, toes in the sand, enjoying that part of the afternoon where the kids are entertained and you can finally take a step back and listen to the crashing waves of the ocean…until you remember that school is fast approaching. You suddenly recount all the nights where "bedtime" was a loose term; I mean, how can you justify putting the kids to bed when it's still light out? You glance at your laughing children and think to yourself, the first day of school is going to be rough for everyone…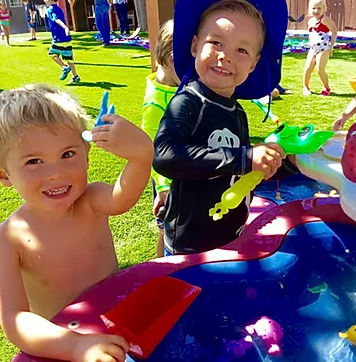 Routine, Routine, Routine
Routines can increase child adjustment, enhance parenting competence, and have even been linked to marital satisfaction, so why not start now?
Getting back in the routine can be hard for the entire family, but it's important to remember exactly why it's necessary in the first place. Daily routines reinforce predictable environments, which become less stressful environments for young children, which then lead to improved daytime behaviors and less stress for mom! Research has shown that a predictable routine that takes place every day can help with long-term time management skills that the child takes with him/her into adolescence and adulthood. When children are self-confident, they are more secure when taking part in new experiences like a new school, classroom, or activity. A University of Albany study concluded that a strong sense of security, brought forth through stable routines, can even help during emotionally difficult family transitions including divorce and family relocation.
One of the hallmarks of Maria Montessori's philosophy centered on the prepared environment. Preparing your environment through a daily routine can help bring out the best in your child, your family and perfectly complement a Heritage Montessori education!
Remember, though, a routine that is 100% rigid can stifle a child's sense of individualism. A successful routine creates a predictable pattern of daily activities while allowing for elements of personal choice so that the child can exercise his/her autonomy as well.
How exactly do we make the transition from summer play to school day?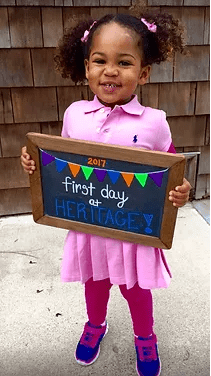 Get started a few weeks before
Take time to slowly ease back into a routine to make the process more manageable for everyone. Start with the bedtime routine – get back to the nightly ritual and start getting children to bed at least 10 minutes earlier each night. If you have to choose just one routine to implement, make it the bedtime routine! It takes about 1-2 weeks to mimic your child's school schedule. You can even mimic your school's nap and mealtimes to make the transition easier. Starting early helps work out the kinks so your child is bright-eyed and ready for the first day back (stay tuned for our sleep hygiene post to get the full lowdown on improving your child's sleep).
Next, tackle the vacation diet. Just as it's easy to stay up late and sleep in during the summer months, it's even easier to overindulge, especially on sodas and sweets. Again, patience is a virtue here. Ease into your regular diet by first cutting out sodas and sweet beverages in exchange for a healthy glass of H2O. Trade baked desserts for fruit like strawberries or mangos, saving the extra-sweet goodies for a family baking activity on the weekends.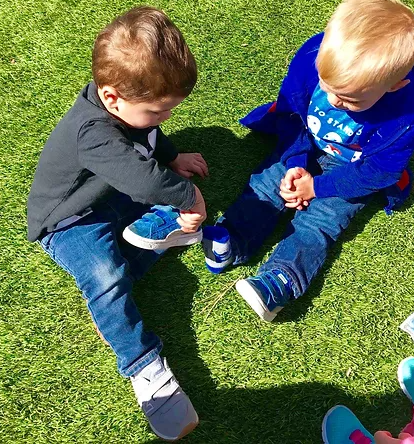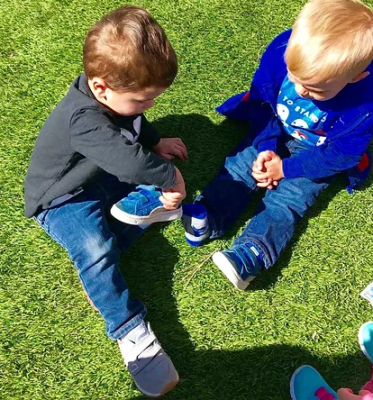 Ramp up the momentum a few days before school begins
The days leading up to the first day of school can foster positive emotions for the child, making the full transition a breeze. Bring your children with you when you buy school supplies, allowing them to choose their own items and giving them an extra reason to be excited. Speaking of supplies, teachers often ask parents to bring in school supplies for the upcoming year. Doing this ahead of time creates an opportunity for you and your child to explore the campus, creating first memories that will get your child's excitement buzzing and leaving you with one less thing to worry about on the first day. Taking a practice run of your route is also a great way to decrease your stress level, as you can prepare for travel time as you plan your morning routine.
The night before
You have now tweaked the bedtime and morning schedules, so it's time to put those into practice! Ms. Rehanna, one of HMS's beloved teachers who has taught our students for over 30 years, shares her recipe for success with this sample daily routine that you can use as you plan your first day!
*Tip for working parents: Meal prep is an essential piece of the daily routine puzzle. Preparing ahead of time allows you to buy/cook in bulk so you can have more time for the 1,000 other items on your to-do list; it also affords you the luxury of one less thing to think about in the morning. Some healthy ideas include hard boiled eggs and hummus, both of which can be made ahead of time, in bulk, and stored in the fridge. Leftovers can also be reinvented to save even more time.
With your child now tucked into bed, lunches made and backpacks ready by the door, you now have time to decompress in preparation for the first day of school, which hopefully includes a little R+R for yourself (bubble bath, anyone?).
Endless Summer…Please?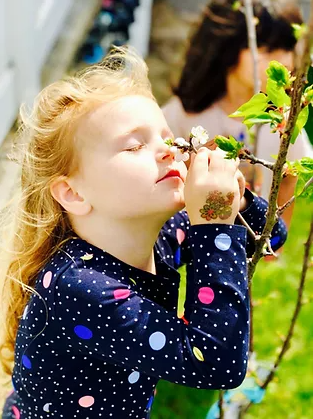 Just because summer is over, all fun is not lost. Why not incorporate some of those memorable moments all year long? Think back to that vacation dinner where everything went smoothly, your steak was cooked to perfection, and dare I say, the kids even got along. Who says you can't reinvent that on a school night or weekend? Staying present amidst crazy work/school/soccer/music/dance/art schedules can keep that summer spirit all year long.
Final thoughts
Although establishing a routine early on will help ease the transition back to school, you don't have to leave every part of summer behind. Don't forget to start each morning with a positive attitude to set the stage for the day to come. No matter which routine you choose to implement, remember to be consistent and set clear limits and expectations for the best results. Routines are great for kids, but they also help adults manage their busy schedules and are the genius behind Super Parents everywhere!