Let's face it, we're in the midst of a historic moment in history. The uncertainty surrounding the COVID-19 pandemic is something we have never experienced. Grocery store shelves are empty and government officials are urging families to stay home to fight against something invisible. Meanwhile, our young children are left to cope with changing routines and the feeling that something isn't right. How do you talk to your child about COVID-19?
Preschool age children rely on their caregivers to provide unspoken cues that everything is okay. Children in this age group can feel when something has changed, especially changes to your daily routine. Children feel your energy, even when you are masking feelings of uncertainty with a smile.
First things First
It is especially important during changing times to maintain a consistent daily routine. As mentioned in previous posts, if there is one routine to stick with, make it the bedtime routine. A good night's sleep helps the whole family wake up each morning ready to take on the day. With many families staying at home and working from home right now, it can be just as important to keep a routine for parents, too. Create a routine in your home that involves family meals, work time for parents, learning for children, exercise for the whole family, and bonding time, too. Your bond with your child and your family is your strongest defense for your child and for you, too. Building a sense of security and attachment can go a long way; it is the best way to build confidence in yourself and your child during these unprecedented times.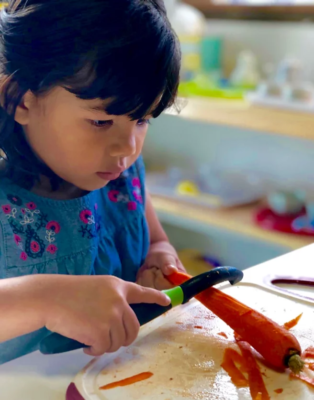 Consider your Surroundings
With information changing on a daily basis, it's only natural for parents to want to stay informed. Keep in mind who else in the room is listening. While parents can (hopefully) sift through the emotion on the news and get to the facts, children are much more susceptible to emotional tone. Get your daily updates while your child is having their nap or at bedtime. Save your emotional responses for parent alone time, keeping family talk cool, calm, and collected. It's okay to talk about current events at the dinner table but remember your audience.
Time to Talk
While explaining the reproductive cycle of a virus may not be the best way to start a COVID-19 conversation with your preschooler, it is important to explain the situation. A short, honest, easy to understand response that reassures your child is the best bet. Turn your conversation around to reflect the positive. For example, in response to changing routines and having everyone at home all day, maybe for the first time in a long time, you can simply say, "People are getting very sick these days. We are staying home to stay healthy. What can we do here at home to stay healthy?" Involve your child in the solution!
Make it Fun!
For many families, this is the first time in a while that the family is together for an extended period of time. Why not make it fun? Involve your child in household chores, set aside certain cooking tasks to complete together, and turn hand washing into a fun, competitive game! We're lucky to be housebound in an era where we can still explore the world at our fingertips. The internet is full of art projects, kid-friendly recipes, and even yoga to help families work together, stay present, and strengthen their bond.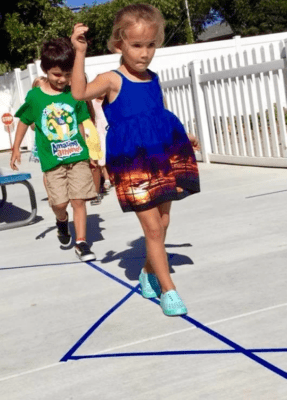 The silver lining?
Sometimes, it takes an unpleasant situation to remind us of what is important. Staying at home helps us take a step back from our busy lives and see what's right in front of us. Use this time to reconnect with what's important to you and your family, stay mindful, and remember, we will get through this.